COVID-19 Update from WHPP
As of 2022, WHPP has resumed occupational health screening, following a temporary suspension due to the COVID-19 pandemic. Additional measures have been put in place to protect medical staff and other patients from the risk of COVID-19.
To schedule an appointment contact 1-888-241-1199 or reach out to local program coordinators at the numbers below.

BNL 718-670-4209
Fernald 812-577-0113
INL 208-522-4748
K25 865-207-5404
Mound 937-657-1637
NTS 702-375-8209
NoCal Labs 925-321-3637
ORNL and Y-12 865-457-8796
Portsmouth 740-289-2405 ext 109
Paducah 270-994-8247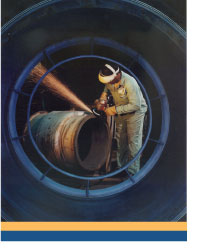 The Worker Health Protection Program (WHPP) provides free medical screening for former and current workers* at fourteen Department of Energy (DOE) sites across the country.
The goal of WHPP is to provide medical screening to detect work-related illnesses at an early stage when medical intervention may be helpful. In addition, it helps workers determine if a current health condition is the result of a work-related exposure. For the first time, former and current workers at DOE sites have the opportunity to obtain an independent, objective assessment of their health in relation to their prior workplace exposures by a physician with expertise in occupational medicine.
The program is funded by a contract from the DOE and is led by Queens College of the City University of New York in partnership with the United Steelworkers (USW), Atomic Trades and Labor Council (ATLC), and the former Fernald Atomic Trades and Labor Council (FATLC).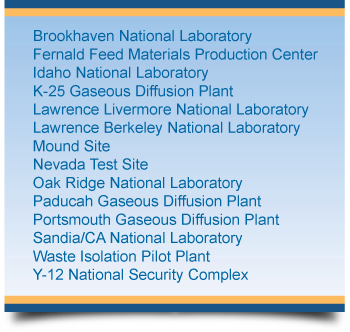 For more details, please contact us at the
Worker Health Protection Program:

Phone: 1-888-241-1199
Email: info@worker-health.org
Address: Worker Health Protection Program
65-30 Kissena Blvd, Remsen 311
Flushing, NY 11367
*Current workers are only eligible for medical screening at the three GDP sites.


Former DOE workers tell how medical screening helps them lead healthier and longer lives. Click the "play" button to launch the video.